Animes are getting enormous popularity in young youth. Many of the Japanese animes has been a hit and we have today one of the best to discuss we have also have some info about Made in Abyss Season 2 Release Date for you!

Fans loved Made in Abyss Season 1 of the show and it received a huge and great response. Now the fans are desperately waiting for the Made In Abyss Season 2.
The Past of Made in Abyss
Made in Abyss (also known in Japanese as Meido in Abisu) is a dark fantasy anime television series based on a manga series of the same name. Several years later, after it was released, an anime studio called Kinema Citrus picked up the manga series and adapted it to an anime TV series. The first season of anime was premiered on 7 July 2017 and was named Made in the Abyss.
Adapted by Kinema Citrus, Made in the Abyss was directed by Masayuki Kojima, composed by Hideyuki Kurata, and featured Kazuchika Kise's character designs. The series was also compared to Hayao Miyazaki's work, which makes sense considering art director Osamu Masuyama used to work for Ghibli Studio.
The Protagonist
The story follows an orphaned girl named Riko who aspires to be like her mother a "Delver." Delvers are explorers exploring the titular abyss a vast network of pits and caves unraveling the mysteries within.
Riko is a bright and active youngster. She has a sharp and curious mind, and she tries to collect and organize all available information on the topics that interest her.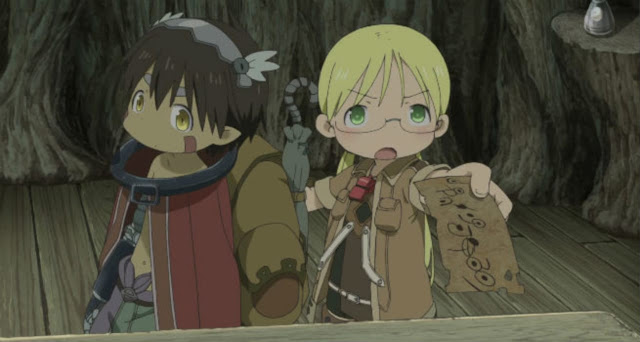 Riko is really the only child of Lyza, a renowned cave raider. Riko's mother disappeared when she was two years old while on a mission to the bottom of the Abyss; since then, she has resided at Beruchoro Orphanage, learning to become a cave raider herself.
She's earned the status of a student by the age of twelve, allowing her to wear a crimson whistle and explore the Abyss's lowest levels. She fantasizes about achieving the greatest rank among cave raiders, the white whistle, and pursuing her mother towards the bottom of the Abyss.
Riko is strong and determined, and while she isn't much of a brawler due to her small stature, her ability to keep her cool under pressure and make reasonable decisions in the heat of combat allows her to successfully face most of the Abyss's threats. She's also a fantastic cook.
Plot Summary
The series is set in a fictional land and revolves around a young orphaned girl named after Riko, who lives in the Belchero Orphanage, located in Orth's fictional city. The area, by the way, is situated on the edge of a mysterious and vast hole in the ground called the Abyss, which runs deep beneath the ground.
Under the ground resides the remains of a civilization thought to have gone far and thus the target of ' Cave Raiders, ' who are explorers and who go deep inside the Abyss to retrieve the ancient civilization's artifacts and precious treasures.
The path to the Abyss and back, however, is not an easy one, Most people entering the Abyss are contracting a mysterious illness that has the potential to kill, and the symptoms of the illness get stronger the deeper one goes in.

Identified as the "Abyss Curse", the disease has claimed many lives over the years. Despite the risks, cave raiders in pursuit of riches often venture into the Abyss, and those who are exceptionally good receive the legendary White Whistle nickname.
The mother of Riko, Lyza, was one of those White Whistles but was missing when Riko was a kid. Riko, having grown up in an orphanage without her mother, longs to be like her and embarks on glorious and risky Abyss adventures.
The darkness houses untold riches and amazing creatures, but the journey isn't a simple one of course. Together, in search of answers, Riko and her friend, a robot boy named Reg, descend to the cave system.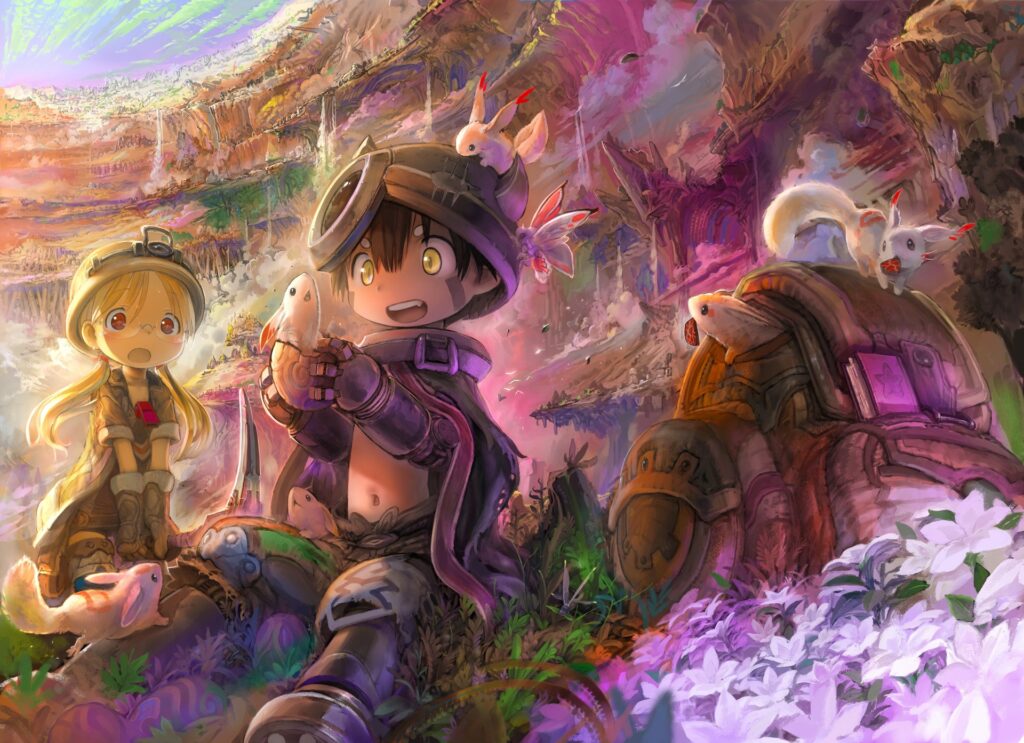 Made in Abyss Characters with Cast:-
Riko is the main character of Made in Abyss Season 2, with Reg, Nanachi, and others. They all have a big part to play in this season.
Ozen
Ozen "The Immovable" is a White Whistle rank holder who resides at the Observation Base on the Abyss' second level, where she supervises a group of cave raiders known as "The Layabouts." Ozen was Riko's mother Lyza's mentor and close friend.
Ozen made in abyss is an unrivaled fighter, thanks to her one-of-a-kind relic "Thousand Pins," which offers her extraordinary strength, speed, and longevity (despite her youth, Ozen has held the rank of White Whistle for more than 50 years). She has an unusual haircut that hides the deformations in her scalp caused by prolonged exposure to the Curse of the Abyss.
Reg
Reg is a robot who has the appearance of a young kid. His true age, origins and even identity are mysterious, as he has no recollection of his life prior to meeting Riko. Riko called him Reg after a dog she used to own.
Reg's body is incredibly tough and resistant to bodily injury. Reg may be the only sentient being totally immune to the Curse of the Abyss due to his robotic body. As a result, he is often referred to as "The Deep Treasure."
Reg made in abyss is shy and unassailable, despite being a great combatant. When he is upset, he blushes easily and frequently cries. Reg, unlike Riko, is easily frightened by danger and must rely on Riko's judgment in such situations.
Mitty / Narehate
Mitty made in abyss was a "survivor" of the Abyss's sixth layer's strains of ascending. During her ascension, she changed into a malformed Narehate (hollow).
What distinguishes her is her inability to die, which Bondrewd remarks is unlike anything he's ever seen. Reg burnt her with his incinerator.
| | |
| --- | --- |
| NAME OF CHARACTER | VOICE ACTOR |
| Riko | Miyu Tomita |
| Reg | Mariya Ise |
| Nanachi | Shiori Izawa |
| Faputa | Misaki Kuno |
| Ozen | Sayaka Ohara |
| Lyza | Maaya Sakamoto |
| Bondrewd | Toshiyuki Morikawa |
| Mitty / Narehate | Eri Kitamura |
| Wazukyan | Hiroaki Hirat |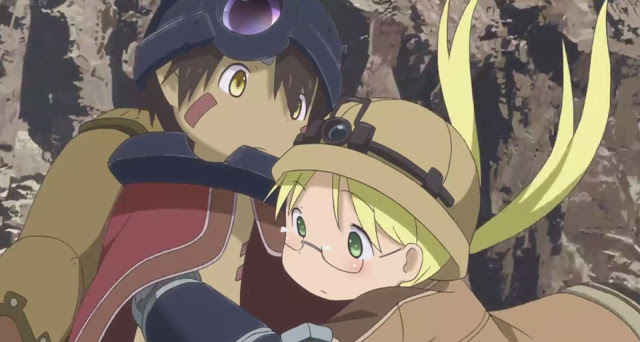 Made in Abyss Manga
Made in Abyss Anime is based on a popular manga series of the same name. The Made in Abyss Manga series was first released on Oct 20, 2012, and was written and illustrated by Akihito Tsukushi.
Number of Volumes and Chapters in Made in Abyss Manga
Last checked in February 2022, Made in Abyss Manga consists of about 10 volumes consisting of 58 chapters.
Is Made in Abyss Over?
The manga series is still being published. The latest volume was volume 10 and chapter 58 and was released on July 29, 2021. New chapters of the manga series are expected in 2022. But there are a lot of animes we can recommend to you:
Current Anime Season and the Manga
The Made in Abyss Anime Season 1 adaptation covered the plot of 26 chapters of the manga. Hence, the makers now have around 32 more chapters to make another installment.
Made in the Abyss Season 2 will be based on volume 4 and later of the manga, according to the show's creators. While Made in Abyss Season 1 adapted volumes 1-4 of Made in Abyss Manga. The anime will continue from the manga from chapter 27.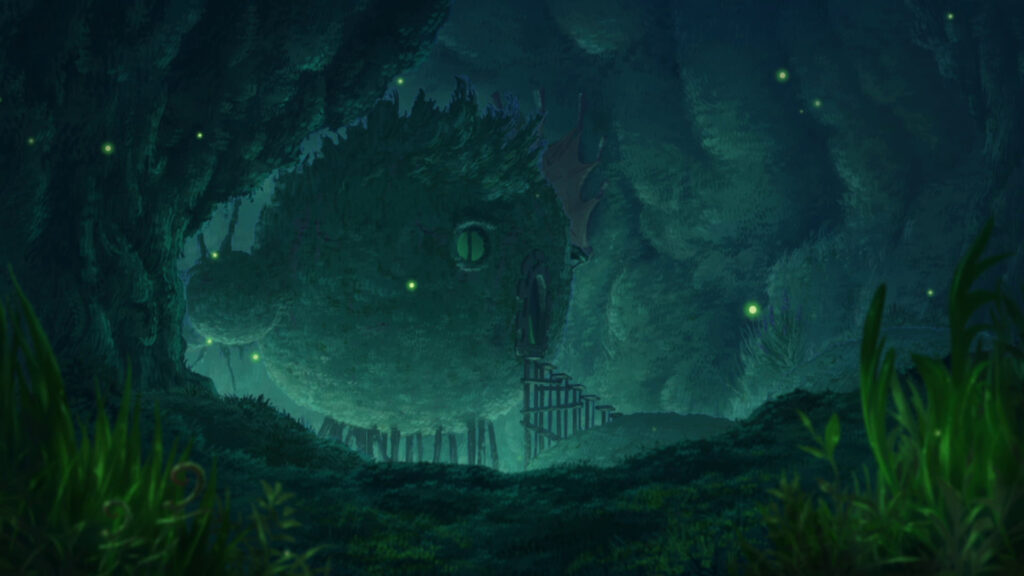 Made in Abyss Movies
Made in Abyss Journey's Dawn is the first recap movie announced in March 2018. Made in Abyss Journey's Dawn was released in Japan on January 4, 2019. It adapted Volumes 1-3 and chapters until 17 of the Made in Abyss Manga.
Made in Abyss Wandering Twilight is the second recap movie announced in March 2018. Made in Abyss Wandering Twilight movie was released in Japan on January 18, 2019. It adapted Volumes 3 and 4 and chapters 18 to 26 of the Made in Abyss Manga.
Made in Abyss Movie 3 was announced on January 4, 2019, with a promotional poster. Made in Abyss Dawn Of The Deep Soul is set to continue the story of Made in Abyss Season 1 from chapter 26 until the 38th chapter.
That is why the film leaves hardly any material to cover for Made in the Abyss Season 2. The made in the abyss anime series may not try to continue the story from where it left the first season because it's already shown in the movie. It severely threatens the future of all the forthcoming installments of the Made in Abyss Anime because the projects will be delayed by lack of content.
Made in Abyss Review
Critical Reception
Made in Abyss Anime or Meido in Abisu Anime has received generally good ratings from critics.
Audience Rating
It has a weighted average score of 8.4 on IMDb and 92% by Google users. It has gained a large fan following and fans love it. It also has 8.7 on MyAnimeList.net. There is a reason so many people are hyped for a new season.
Our Review
A pit where the deeper you descend, the more dangerous it becomes to get back out. It's a terrific series with an intriguing concept, and it's something we'd like to accomplish ourself.
Story: Orphans who grow up headed into the abyss, one of them encounters a mysterious object within it one day, and set out on a quest to uncover the truth about the abyss. We always adore dungeons, exploring, and fighting monsters.
Art: We believe it's great, some of the best We've seen, and it all has a really nice feel to it.
Characters: Each one has their own personality, particularly the main pair and the secondary characters; We sincerely hope the quality of this continues to improve.
Overall: A terrific start to a great series, hopefully, this one won't disappoint, but it's high on our list of shows we look forward to watching each week.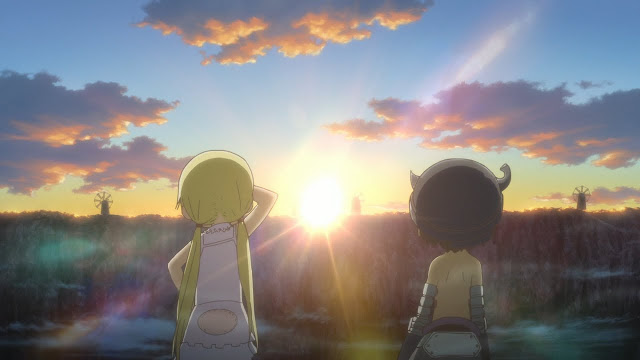 Anime like Made in Abyss
There is a reason why it stands out from the regular show. And, if you can't put yourself together when watching a show full of mystery and dark adventures, this show may not be for you.
It has everything an anime fan will need. Decent Story, Supernatural Elements, Dark Fantasy. Animes that have similar concepts or have something a Made in Abyss Anime fan would like are:-
Fullmetal Alchemist: Brotherhood
Edward and Alphonse's adventure, like that of Made in the Abyss, prompts them to ask questions about themselves and a parental figure. These two shows include children-and-creature experiments in their series, which is supposed to infuriate the heroes of each episode.
After Made In Abyss, Fullmetal Alchemist: Brotherhood is the one to watch if you're seeking another adventure series that delves deep into the brains of its characters and their perceptions of the world around them.
Attack on Titan
As with Made In the Abyss, the primary cast of Attack on Titan eventually leaves the walls to find answers to questions about their nations' and the titan's history that they have long wished answered.
If fans of Riko and Reg's imaginative yet terrifying travels in the abyss enjoy Attack On Titan, they will enjoy what it has to offer.
Log Horizon
Log Horizon is an anime about a college engineering student named Shiroe who ends up getting stuck among thousands of other people in a video game.
Shiroe and his Akatsuki and Naotsugu mates are trapped in the Elder Tale smash-hit game where they have to battle other players and even monsters to keep living. During the game, the three friends meet and team up to try and solve a variety of complex puzzles and flee from the game and return to earth.
It's like when Riko and company went down in the Abyss.
Noragami
Noragami's story begins with an average middle school girl named Iki Hiyori. She got into an accident one day, sometimes causing her soul to start slipping out of her body.
Hiyori found herself able to travel between two parallel worlds given the new ability, namely the Far Shore, where human souls and demons wander around, and the Near Shore, where humans and animals reside.
Made In Abyss English Dub:
The good news for those who like watching anime shows in English is that Made in the Abyss has a pretty great English dub that was made in view of an international audience. You can find dubbed episodes on Amazon Prime Video if you wish to watch the series in English.
Made in Abyss Season 2 is Coming or Not?
The pilot season was a triumph, and the anime did not disappoint in surprising viewers. Made in Abyss Season 1 premiered from July 7 to September 29, 2017.
There are a lot of questions like Is Made in Abyss Season 2 Cancelled? or Is The Made in Abyss Season 2 Confirmed?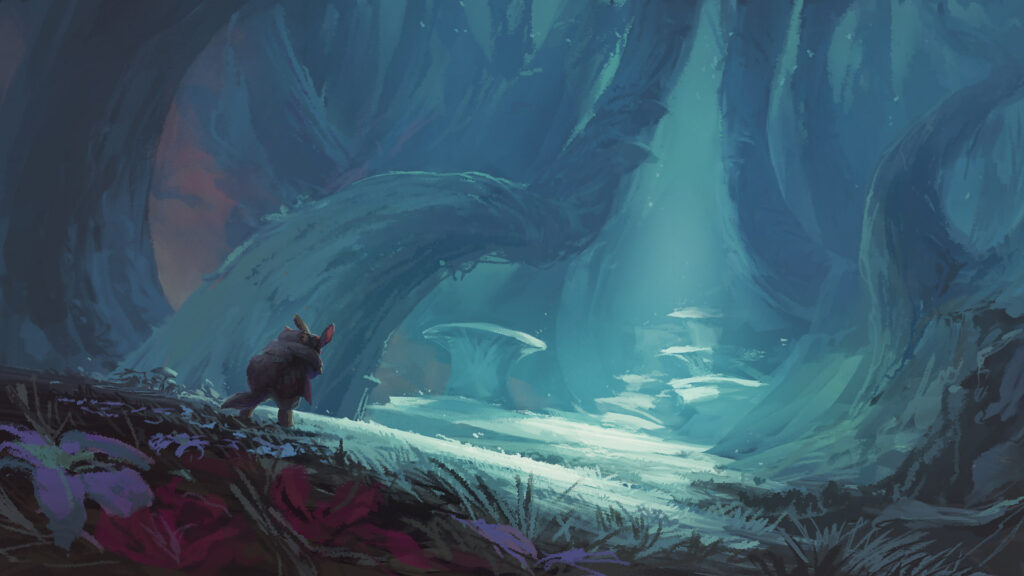 It's been five years since its first season aired, Made in Abyss Season 2 has a large fan base that is eagerly anticipating the new season. It has a devoted fan base that matches practically anything else in anime.
It was an immediate hit with Made in Abyss Manga series fans and new audiences alike, and fans have been waiting for a second season to hear the news since then.
What We Can Expect From Made in Abyss Season 2:
The new sequel named Made in Abyss Dawn of the Deep Soul released in January 2020 may have confirmed the Made in Abyss Anime Season 2 TV series. We know for certain that the development of a sequel to the anime was officially green-lighted.
The most important hint that the made in the abyss anime will get season 2 is because the end credits of the latest made in abyss movie Dawn of the Deep Soul said "TO BE CONTINUED", Which means there is a more story after the Made in Abyss movie which might be continued by Made in the Abyss Season 2.
In January 2020 an announcement trailer was updated to the official website for the anime series. The video states that there will definitely be another sequel to the Made in Abyss Anime series franchise.
Made in Abyss Season 2 Release Date Expectations
The Made in Abyss Anime Season 2 is still in production as of now, which may take time and the makers may not start working on the installment early at any time.
Because the Made in Abyss Dawn of The Deep Soul movie is recently released which continues the story of season 1, The studio will take some time to come up with the story for made in abyss anime season 2.
In reality, it seems highly improbable to have a premiere at the start of 2022. Fans may have to wait for any episodes of anime, Made in Abyss Season 2 Release Date will be at least at end of 2022 or 2023.