YOU CAN START CLAIMING YOUR $20 COUPON FROM HERE! (Updated in 2022)
AliExpress has created a promotion name Bonus Buddies in which they are offering $20 to successful Winners. They are offering this promotion in wide countries. AliExpress Bonus Buddies is like a game that works by referring to the other users.
You have to first Sign Up for the program then you have to invite others to AliExpress Bonus Buddies program by sharing your personal link with them.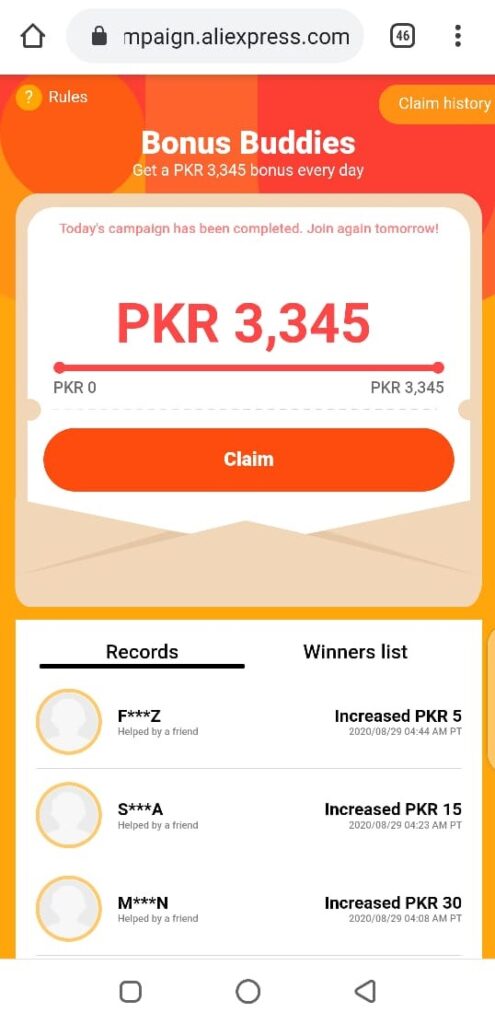 How To Participate in AliExpress Bonus Buddies and Claim 20$?
First, you have to Sign Up for the promotion with this

UNIQUE LINK (This will help you in getting an initial bonus in Bonus Buddies AliExpress).
Sign Up with Google (or any account).
Click on the big circle open button.
After Clicking you will be redirected to the main AliExpress Bonus Buddies page.
How AliExpress Bonus Buddies Work?
You will have your personal link and account after signing up with this LINK. Initially, you will be provided 15$ to 16$ Bonus money. After that, you will have to reach 20$ with the help of your other friends within 24 hours! After 24 hours the game is reset and you will be again back to the initial amount means all your efforts will be in vain. So you have to act fast.
To reach 20$ and increase the money, you will have to share your link, if any person signed up with your link then you will get points in the form of $ money. The money you receive from each sign up depends on random.
Second way to increase your money is to ask your friends who have already made their account with other referral links then yours then you can convince them to help you by clicking your link. This will help you in getting additional money and points. Remember you can help each friend only one time and you can help a total of 3 persons withing 24 hours after 3 helps your limit will be reached.
AliExpress Bonus Buddies Hack (Trick)
After getting to the main page, You will have a big button saying Win To Share. You have to click the button and start spreading the link to your friends family and social networks. So guys start with Bonus Buddies Right Now!
If you are a seller at Daraz, Then you can try our newly launched tools at https://twicegaming.com/daraz-rank-tracker/